Description
Chlorinated polyethylene resins and elastomers (CPEs) exhibit excellent physical and mechanical properties, including resistance to chemicals, oils, heat, and weathering; low-temperature performance; compression-set resistance; flame retardancy; high filler acceptance; tensile strength; and resistance to abrasion. In addition, CPE polymers can range from crystalline or rigid resins to a flexible elastomer product, making them highly versatile products. These polymers are used as the major or minor component in a wide assortment of applications in industry. The largest application for CPE is as an impact modifier. Other important end-use applications for CPE include roofing membranes, wire and cable jacketing, geomembranes, automotive and industrial hose and tubing, coatings, molded shapes, extruded profiles, and use as a base polymer.
The use of CPE as an impact modifier, primarily in PVC, amounted to nearly 74% of global consumption in 2017. Usage in sheeting and roofing products (13%) and wire and cable applications (7%) are the next most important.
In 2017, China was the dominant CPE consumer, accounting for nearly 82% of global demand, followed by Other Asia (excluding Japan), the United States, and Europe. With a slowdown in the Chinese economy, consumption is forecast to grow by only about 3% per year during 2017–22.
The following pie chart shows world consumption of chlorinated polyethylene resins and elastomers: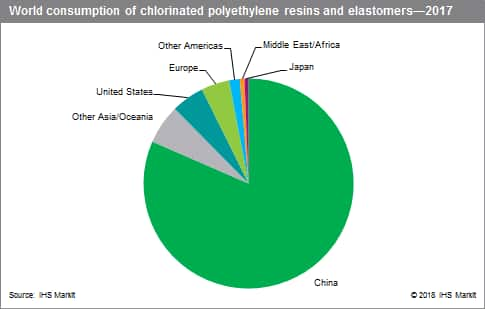 China accounts for essentially all world production of CPEs. Showa Denko has a small plant in Japan. Largely because of the significant capacity increase in China, there is currently a large surplus of Chinese capacity, with the global operating rate estimated at less than 50% in 2017; however, some Chinese capacity is believed to be nonoperational. The four largest producers (all in China) operate 34% of global capacity. There are many small-volume CPE producers in China, but it is likely that some of these producers will close operations because of the current overcapacity situation and the generally competitive market.
The properties of CPEs are a function of the type and grade of polyethylene starting material, the chlorine content, and the uniformity (distribution) of chlorine substitution. Additionally, the chlorination process can be adjusted to produce amorphous (low crystallinity to noncrystalline) products, or products that contain increased levels of residual polyethylene crystallinity. Crystalline behavior similar to that of polyethylene occurs at chlorine levels of less than 25% by weight; elastomeric properties, from 25% to 45% chlorine; and rigid plastic characteristics at greater than 45% chlorine. CPE resins can be cured to make thermoplastic vulcanizates suitable for some elastomer applications.
Control of raw material and reaction variables allows a wide range of CPE products to be offered commercially. Regardless of the chlorination process used, the structure of the base resin is important in determining the properties of the resultant CPE, especially if residual crystallinity remains. For example, at similar levels of residual crystallinity, CPE made from a linear polyethylene has better heat-deformation resistance than that made from a branched resin, but poorer lowtemperature flexibility. In addition, the molecular weight of the base resin has a strong influence on the properties of CPE polymers. At a constant chlorine content, increasing molecular weight of the base resin results in both increased tensile strength and viscosity.